Latin America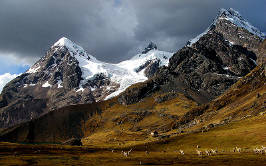 Nestled between the Caribbean, the South Pacific, and the South Atlantic Oceans, South America is the wilder of the Americas and a continent of superlatives.
The world's biggest rainforest and the largest river (Amazon), the highest mountain range outside Asia (the Andes), remote islands (Galapagos Islands, Easter Island and Fernando de Noronha), heavenly beaches (such as in Brazil's Northeastern region), wide deserts (Atacama), icy landscapes (Patagonia & Tierra del Fuego), the world's tallest waterfall (the 979m Angel Falls, in Venezuela) and one of the largest (Iguaçu Falls, Argentina and Brazil), as well as several other breathtaking natural attractions.
Besides, the work of man has also left rare gems on the continent: ruins of ancient civilizations (Machu Picchu and other Inca cities; the Moais in Easter Island) share the continent with world-class metropolises (São Paulo, Buenos Aires, Bogotá, Caracas, Santiago, Lima and Rio de Janeiro), outstanding modern architecture (Brasilia), European architecture (Buenos Aires), the oldest rock paintings in the Americas (at the Serra da Capivara), strong African heritage (in Salvador, Rio and Montevideo), genuine indigenous (Belém, Manaus, Cuzco, Lima, La Paz), charming cities built in the Andes (Caracas, Medellín, Quito, Santiago de Chile) and Eastern culture (São Paulo's enormous Japanese community), mingled with the fingerprints of Iberian colonizers. Ushuaia, the world's southernmost city and some of its biggest festivities, such as Rio's Carnival and Belem's Cirio de Nazaré, the Tango World Championship, and the Vendimia festival in Argentina, are also part of this incredibly diverse and attractive continent.
Argentina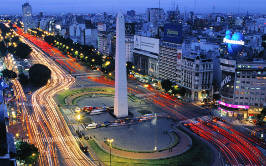 Argentina, (officially Argentine Republic; Spanish "Republica Argentina") is a large, elongated country in the southern part of South America, neighbouring countries being Bolivia, Brazil, and Paraguay to the north, Uruguay to the north east and Chile to the west. In the east Argentina has a long South Atlantic Ocean coastline.
Many ski centers operate in the Andes during the winter; Las Leñas and San Carlos de Bariloche are particularly well-known.
There are two important nature preserves around Puerto Madryn, Punta Tombo, and Peninsula Valdes where one can see guanacos, rheas, penguins, sea lions, birds, and whales at certain times of the year.
The wine regions of Mendoza and Salta are also very popular tourist destinations, and many tourists are discovering that entering Argentina and using these cities as a base often suits them better than dealing with the bustle of Buenos Aires. Mendoza is a place where many find it is comfortable to learn or brush up on Spanish before touring South America.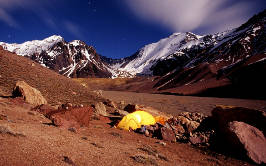 The Traslasierra Valley is a natural geographic region of Córdoba, Argentina, located west of the Big Picks or Hills where Mina Clavero is the capital of tourism and is the most important commercial center togehter with the city of Villa Dolores. Along these magnificent mountain range of almost 2800 mts (9200 ft.) high, several charming villages will welcome you with a great variety of lodgings, restaurants, cultural events and outdoor activities for everyone. The sun shines most of the year inviting you to practice eco-tourism and adventure tourism experiencing a direct contact with nature. In this land where once was inhabited by Comechingones indigenous, is a valley populated by two dozen villages and towns with their own characteristics and distinct styles. Some cultivated a unique profile, but nothing flashy, where golf can be combined with rest and good food. Health tourism is also possible in some places in Traslasierra valley, where alternative therapies or anti-stress programs are available in world class Spas.
Cultural heritage has also a main role, with museums, churches and estancias (ranches) of the eighteenth century.
Bolivia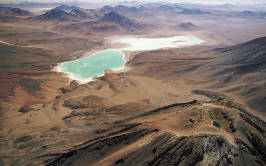 Bolivia is a beautiful, geographically diverse, multiethnic, and democratic country in the heart of South America. It is surrounded by Brazil to the northeast, Peru to the northwest, Chile to the southwest, Argentina and Paraguay to the south. It shares with Peru control of Lake Titicaca (Lago Titicaca), the world's highest navigable lake (elevation 3,805 m).
Sometimes referred to as the Tibet of the Americas, Bolivia is one of the most "remote" countries in the western hemisphere; except for the navigable Paraguay River stretching to the distant Atlantic, Bolivia and Paraguay are the only two landlocked nations in the Americas. It is also the most indigenous country in the Americas, with 60% of its population being of pure Native American ancestry.
The Death Road: from La Cumbre to Coroico. A mountainbike tour of 64km where you'll be able to see the diversity of Bolivia. Leave from La Cumbre at 5000mts, in a cold and windy environment, and get to Coroico, in a wet and tropical environment.
Explore the Provinces: Bolivia is a place to explore, it is mostly still untouched. The people are friendly in the countryside. There are hundreds of off the map, mostly out-of-the-guide places to go in Bolivia, and far more exciting than what the tour agencies and guide books offer. In the La Paz department for example you can easily catch transport to places like Pelechuco, the east side of Lake Titicaca, Achacachi, Isla del Sol, or Quime... not to mention scores of other villages and small towns. The free govt. tour agencies at the Plaza Estudiantes or Prado can help you find transport anywhere and tell you about it.
Brazil
Brazil, is the largest country in South America and fifth largest in the world. Famous for its football (soccer) tradition and its annual Carnaval in Rio de Janeiro, Salvador, Recife and Olinda. It is a country of great diversity, from the bustling urban mosaic of São Paulo to the infinite cultural energy of Pernambuco and Bahia, the untouched wilderness of the Amazon rainforest and world-class landmarks such as the Iguaçu Falls, there is plenty to see and to do in Brazil.
Natural wonders
Amazon Rainforest - The Amazon River Basin holds more than half of the world's remaining rainforest, and over 60% of that lies within the North of Brazil — approximately one billion acres with incredible bio-diversity. The region is home to about 2.5 million insect species, over 40,000 plants species, 2200 fish species, and more than 2,000 types of birds and mammals. One in five of all the bird species in the world live in the rainforests of the Amazon, and one in five of the fish species live in Amazonian rivers and streams.
Atlantic Forest - A region of tropical and subtropical forest which extends along the Atlantic coast of Brazil from Rio Grande do Norte state in the Northeast to Rio Grande do Sul state in the South. The Atlantic Forest has a wide variety of vegetation, including the many tree species such as the iconic araucaria tree in the south or the mangroves of the northeast, dozens of types of bromeliads and orchids, and unique critters such as capivara. The forest has also been designated a World Biosphere Reserve, with a large number of highly endangered species including the well-known marmosets, lion tamarins and woolly spider monkeys. Unfortunately, it has been extensively cleared since colonial times, mainly for the farming of sugar cane and for urban settlements — The remnants are estimated to be less than 10% of the original, and that is often broken into hilltop islands. However, large swaths of it are protected by hundreds of parks, including 131 federal parks, 443 state parks, and 14 municipal parks, most of which are open to visitation.
Pantanal - A vast tropical wetland expanse, one of the world's largest. 80% of it lies within the state of Mato Grosso do Sul but it also extends into Mato Grosso (as well as into portions of Bolivia and Paraguay), sprawling over an area estimated at between 140,000 and 195,000 square kilometers (54,000-75,000 sq mi). 80% of the Pantanal floodplains are submerged during the rainy seasons, nurturing an astonishing biologically diverse collection of aquatic plants and helping support a dense array of animal species.
Waterfalls (Cachoeiras) - Brazil has an amazing range of impressive waterfalls of all sizes and shapes. Iguaçu Falls, in eastern Parana, is one of the most spectacular waterfalls in the world, truly a sight to see. The 353-meter Cachoeira da Fumaça in Bahia's Chapada Diamantina National Park is the country's second highest waterfall, after the Amazon's almost inaccessible Cachoeira do Araca. Other famous waterfalls include Caracol Falls, in a Rio Grande do Sul state park of the same name near Canela, Itaquira Falls, an easily accessible 168-meter fall near Formosa, Goiás, and the gorge at Parque da Cascata near Sete Lagoas, Minas Gerais. Aside from the nationally famous falls, in many parts of the country, particularly the South, Southeast, and Central West regions, you are rarely far from at least one locally-famous, named waterfall worth a short hike.
Architecture
Colonial architecture - Many cities have reminders of Brazil's colonial past, with churches, monasteries, forts, barracks, and other structures still intact. Some of the most concentrated and best-preserved colonial buildings can be found in old gold-mining towns such as Ouro Preto and Tiradentes, but many other cities such as Rio de Janeiro, Petrópolis, Salvador, Paraty, and Goiânia have quite significant colonial centers as well.
Oscar Niemeyer works - Niemeyer, Brazil's most famous architect, is a modern architectural pioneer who explores the aesthetic impact of reinforced concrete, using curves to create buildings with a unique sense of space. He is most famous for designing many of the buildings when the new capital of Brasilia was built in the 1950s, but his works literally dot the country, with major works in Natal, João Pessoa, Belo Horizonte, Rio de Janeiro, Niterói, São Paulo, Londrina and other locations.
Chile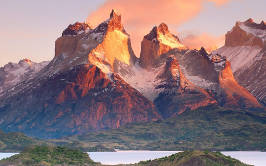 Chile narrowly stretches along the southern half of the west coast of South America, between the Andes and the Pacific Ocean. The bordering countries are Peru in the north and Argentina and Bolivia to the east. Chile has over 5,000 km (3,100 mi) of coast on the South Pacific Ocean.
Destinations in Chile:
Santiago, the capital and largest city of the country.
Iquique, touristic center in Northern Chile.
La Serena, a charming city, with many things to do in and around it.
Valparaíso, main Chilean port and a UNESCO World Heritage Site.
Vina del Mar, the principal touristic attraction: beaches, casino and an iconic music festival.
Valdivia, the "City of Rivers", rebuilt after the strongest earthquake on history.
Punta Arenas, one of the southernmost cities of the world.
Colombia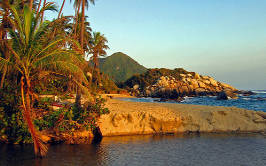 Colombia is the only country in South America with coastlines on both the North Pacific Ocean and Caribbean Sea. Lying to the south of Panama, Colombia controls the land access between Central and South America. With Panama to the north, Colombia is surrounded by Venezuela to the east, Brazil to the southeast, and Ecuador and Peru to the south west. The country was named in honor of Christopher Columbus, following the Italian version of his name (Cristoforo Colombo). Although Columbus never actually set foot on the current Colombian territory, in his fourth voyage he visited Panama, which was part of Colombia until 1903.
Much of Colombia is in the Andes, which means there is very nice mountainous scenery to be found. On the other hand, there are also nice beaches to be found in the lowlands. The altitude of some peaks mean that snow can be seen even though they lie in the tropics.
There are a lot of things to do in Colombia, and you can find parties and celebrations wherever you go. Colombians especially love to dance, and if you don't know how, they'll happily teach you. Colombia is known for its exciting night life.
Cuba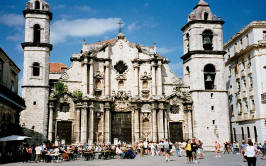 Cuba is the largest Caribbean island, between the Caribbean Sea and the North Atlantic Ocean. It lies 145 km (90 miles) south of Key West, Florida, between the Cayman Islands and the Bahamas, to the west of Haiti, and northwest of Jamaica.
Walk along Havana's Malécon during the early evening and take in some of Havana's culture. Be cautious about prostitutes, as mentioned above; they are heavy in this area, especially in sections where rich white male tourists are known to walk.
Tropicana, which is an ex-Mafia hangout owned and operated by the state. The Tropicana is located, as it has always been, deep within a strategically tree-heavy area with a narrow road within the city, back behind the trees, and since its admission price is far too expensive for any average Cuban to afford, the people who go there are almost all international tourists. The club still has old-style traditions such as table service, lavish costumes, dazzling lights, a coat check area, etc. Real (but quite small) cigars are also available and can be smoked inside the venue, including near the stage. The Tropicana is so well-kept that it is almost a time warp (with the exception of the modern stage-equipment and the lack of a dress code) and, so long as you can forgive yourself the fact that most Cubans cannot afford what you are doing, and that the people who work there could not be there if they were not employed there, your night is sure to be extremely enjoyable.
Destinations in Cuba:
Havana – cosmopolitan capital with a swinging nightlife
Baracoa – a quaint beach-side town, and Cuba's first capital.
Pinar del Rio – center of the cigar industry
Santa Clara – Home of Ernesto "Che" Guevara's most successful battle during the Revolution. A mausoleum is erected on the outskirts of town and now holds what are said to be his remains, recovered from Bolivia in the 1990s.
Santiago de Cuba – coastal city rich in Caribbean influence
Trinidad – World Heritage Site with charming, colonial-era buildings
Varadero – popular beach area, east of Havana, filled mostly with tourists.
Ecuador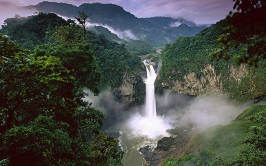 Ecuador is a country in Northwestern South America, with a Pacific Ocean coastline, lying on the Equator between Colombia, to the northeast, and Peru, to the south and east.
Cotopaxi is the world's highest active volcano. Many cities and sites in Ecuador are listed as UNESCO World Heritage Sites. Such cities and best known places are the Galapagos Islands, and the city of Cuenca.
The capital Quito, is a city with a lot of history where you can walk in downtown, enjoying the beautiful colonial buildings. There is also the "Teleférico" (cable-car) which takes passengers from the highest mountain in Quito to see the whole city from the sky.
In Guayaquil, an excellent place to visit is the Malecón 2000, which is very similar to Navy Pier in Chicago, Illinois, offering food, shopping, boat rides and a beautiful view of the river. Except for electronics, prices are quite low; however, almost everything sold with any sort of brand name is a knockoff. This area is very well patrolled and quite safe. For a real adventure, it is possible to visit the more authentic, less expensive, and far more dangerous Bahía or "Informal Market". It is not advisable to visit it without a native. It is possible to purchase a knockoff of almost anything here. Pirated video games and movies also abound; it is possible to purchase game systems modified to play such games as well. Make the proprietors prove to you that any movies or games you might purchase actually work before buying though. In the Bahía, it is necessary to haggle for all items.
Ecuador is perhaps the most bio-diverse country in the world. The Galapagos Islands are justly famed for their wildlife, but there is also lots to see on the mainland. Ecuador has over one hundred different types of hummingbirds. Good places to see them include Cuyabeno Wild Life Reserve, Mindo and San Luis de Pambil.
Montañita Town In the coast, 3 hours from Guayaquil, This is a growing town with many particularies which makes it great to visit: Goog Beach and incredible surroundings, the people, incredible nightlife, and surf. There are many people who live in the town permanently from all over the world.
Guyana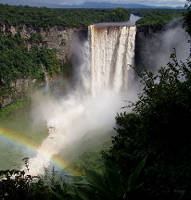 Guyana, is a country in north-eastern South America. It has an Atlantic Ocean coastline in the northeast, and lies between Suriname to the east and Venezuela to the west, with Brazil to the south.
It is now the third-smallest country in South America after Suriname and Uruguay. The name Guyana (from Arawak Wayana) means "Land of many waters." It is related to the name Uruguay: River of the colorful birds, another country in South America.
Destinations in Guyana:
Georgetown - Capital of the country, situated in the county of Demerara
Linden, a mining town (bauxite)originally named McKenzie, but renamed after the country's first Executive President, Linden Forbes Sampson Burnham
New Amsterdam, the second largest town in the country Parika - sits on the East Bank of the Essequibo River, the country's largest river.
Kaieteur Falls (five times the height of Niagara Falls or about 250 metres tall). It can be accessed by a short plane flight from the capital offered by various tour companies as a day trip. It is also the final destination of a five-day trek.
Paraguay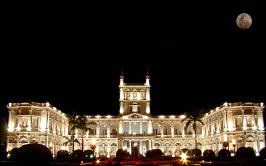 Paraguay is a landlocked country in South America bordering Argentina, Bolivia, and Brazil. The country is rich in natural resources: the world's largest drinking water reservoir (Guarani Aquifer) is beneath its soil, the biggest hydroelectric producer--The Itaipú Dam--is on its border with Brazil. It's also the world's fifth largest exporter of soya beans, as well as a renowned producer of beef. Despite this, it is South America's second poorest country, and it is very common to see beggars asking for money on Asuncion's corners.
Destinations in Paraguay:
Asunción - the capital
Ciudad del Este - this busy border city is also Paraguay's gateway to the Iguazu Falls
Encarnación and its Jesuit Missions of La Santisima Trinidad de Parana and Jesus de Tavarangue
Filadelfia - the departmental seat of Boquerón, founded as a Mennonite colony
San Bernardino- (45 minutes)Paraguay´s liveliest balneario, a summer destination for the young and beautiful. Originally settled by German inmigrants, you can still see some houses remaining from that period. The Lago Ypacarai used to be known as the blue lake, is no longer blue, but filled with people doing water sports during december-february.
Aregua- (45 minutes) laid back town with a nice church and lake. Home to many artists and writers, which have set up nice galleries and museums. Outdoor street market selleing colorful ceramics. You can visit the Museo del Mueble, Centro Cultural del Lago and El Cantaro Galería de Arte.
San Lorenzo (30 minutes) Museo Etnografico Guido Bogiani- indigenous wood carvings and feather pieces. Nice and cheap store selling indigenous handicrafts. Call before going. Located in nearby San Lorenzo, be sure to take a taxidriver who knows the place, as most people in san Lorenzo do not even know of its existance.
Encarnación (4 hours) On the way, stop at ruins and churches along the Jesuit trail. Santa maria de fe is a small town where you can see women embroidering in a sisterhood comunity.
Pilar- (3,5 hours) riverside city where the countries biggest cotton manufacturing industry is located. Very relaxed atmosphere.
Peru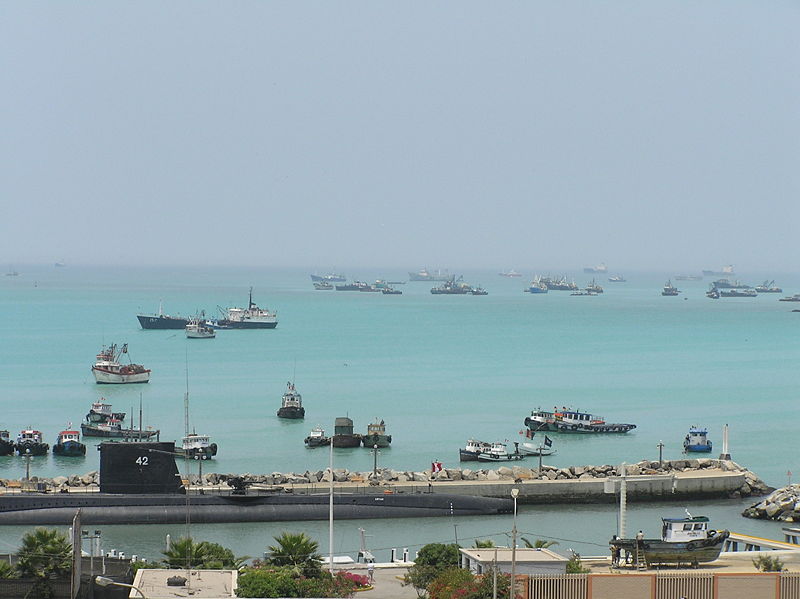 Peru is a country in South America, situated on the western side of that continent, facing the South Pacific Ocean and straddling part of the Andes mountain range that runs the length of South America. Peru is bordered by Ecuador and Colombia to the north, Brazil and Bolivia to the east, and Chile to the south. Peru is a country that has a diversity and wealth not common in the world. The main attractions are their archaeological patrimony of pre-Columbian cultures and the center of Inca's Empire, their gastronomy, their colonial architecture (has imposing colonial constructions) and their natural resources (a paradise for the ecological tourism).
With 84 of the earth's 104 known life zones, Peru is rich in wildlife diversity. The Amazon basin is home to pink dolphins, jaguars, giant river otters, primates, 4,000 types of butterflies and one-third of the world's 8,600 bird species.
The diversity of Peru's people and cultures is reflected in a rich tradition of festivals, dance and music. In the Andes, the plaintive wail of the flute and beat of the drum accompany songs depicting indigenous life while dancers masked as devils and spirits are a marriage of pagan and Christian beliefs. In the jungle, ceremonial music and dance are a window into tribal life. And along the coast, a blend of elegant Spanish sounds and vibrant African rhythms reflect the Conquest and later slave labor of the New World.
Uruguay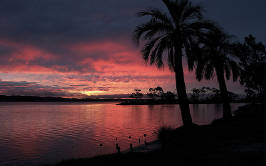 Uruguay is a country in South America. It has a South Atlantic Ocean coastline and lies between Argentina to the west and Brazil to the north. It is the second-smallest country in South America (after Suriname).
Destinations in Uruguay:
Confitería Irisarri, Minas
Los Dedos (the fingers), Punta del Este
Castillo de Piria, Piriapolis
Los Dedos (the fingers), Punta del Este
Abbotsford, Piriapolisss
Colonia del Sacramento, Colonia, Colonia. World heritage site
Plaza Independencia, Palacio Salvo and Old City, Montevideo
Montevideo Centenario Stadium and Football Museum, Montevideo
Palacio Legislativo, Montevideo. The Uruguayan Parliament
Rambla (Promenade) of Montevideo, Montevideo
Venezuela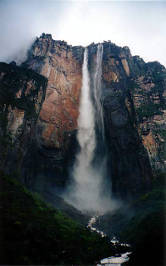 Venezuela is a country in South America. Having a shoreline along the Caribbean Sea and the North Atlantic Ocean, Venezuela borders Colombia to the west, Guyana to the east and Brazil to the south, and is situated on the major sea and air routes linking North and South America. Off the Venezuelan coast are the Caribbean islands of Aruba, Bonaire, Curaçao and Trinidad and Tobago.
The Angel Falls (Churun Meru) in the Guiana Highlands is the world's highest waterfall and one of Venezuela's major tourist attractions
Destinations in Venezuela
Angel Falls in the Guiana Highlands and Canaima National Park.
Los Roques with its crystalline beaches.
Los Llanos and its spectacular wildlife.
Mérida and its breathtaking Andes scenery.
Caracas, the true urban jungle.