Asia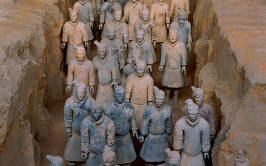 Asia is too massive and diverse to conceptualize as a single digestible travel "destination". Even defining the borders of this continent is difficult - from the mountains around the Black Sea in the west, to the snow fields of Siberia in the east, there are more people and cities in Asia than outside of it. Asia's and the world's highest point is Mount Everest, along the border of Tibet (China) and Nepal, which rises to 8,848 m (29,028 feet) above sea level. Its lowest point is the Dead Sea, located at the meeting points of Israel, the Palestinian Territories, and Jordan, whose surface is 400 m (1,312 feet) below sea level. Asia's longest river is the Yangtze, which runs 6,300 km (3,915 miles) through China from all the way from the high Tibetan Plateau to Shanghai. Its largest lake is the 386,400 sq km (149,200 square mile) Caspian Sea, which is surrounded by several Central Asian nations. Asia is bounded by the Pacific Ocean to the east, by Australia to the southeast, and by the Indian Ocean to the south. It is bordered by the Red Sea to the southwest, by Europe and Urals to the west, and by the Arctic Ocean to the north.
Travel options range widely, from the desert ruins and modern mega-malls of the Middle East to the magnificent ancient monuments in South Asia, and from the beach bungalows and jungle treks of South-East Asia to the mega-cities and technology capitals of East Asia. Find out more about regions, destinations, and itineraries below.
In any case, Asia offers the very diverse travel options available to the most avid travelers. On one end, there are the ultramodern largely democratic modern countries/territories like Japan and the East Asian Tigers of Singapore, Hong Kong, Taiwan and South Korea which are very prosperous and in which people enjoy very high standards of living. On the other hand, Afghanistan, Laos and East Timor are extremely poor countries where people struggle even to get a few grains of rice each day. Of course, there are also many countries lying somewhere in the middle, such as the emerging powerhouses of China and India which make wonderful travel destinations in themselves due to their long history, size and diversity. Thailand is a magnet for travelers too, with great food, a tropical climate, fascinating culture and great beaches. To add to a list of possible travel destinations, Asia is also home to North Korea, which is under one of, if not the most, oppressive regimes in the world.
China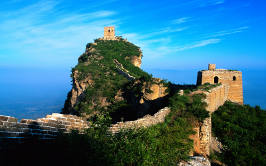 China officially known as the People's Republic of China is a vast country in Eastern Asia (about the same size as the United States of America) with the world's largest population.
With coasts on the East China Sea, Korea Bay, Yellow Sea, and South China Sea, in total it borders 14 nations. It borders Afghanistan, Pakistan (through the disputed territory of Kashmir), India, Nepal, Bhutan, Myanmar, Laos and Vietnam to the south; Tajikistan, Kazakhstan and Kyrgyzstan to the west; Russia and Mongolia to the north and North Korea to the east. This number of neighboring states is equaled only by China's vast neighbor to the north, Russia.
China's attractions are endless and you will never run out of things to see. Especially near the coastal areas, if you run out of things to see in one city, the next one is usually just a short train ride away.
Whether you are a history buff, a nature lover or someone who just wants to relax on a nice beach, China has it all from the majestic Forbidden City in Beijing, to the breathtaking scenery of Jiuzhaigou. Even if you live in China for many years, you'll find that there's always something new to discover in another part of the country. Perhaps unsurprising due to its sheer size and long history, China has the third largest number of UNESCO World Hertiage Sites, after Italy and Spain.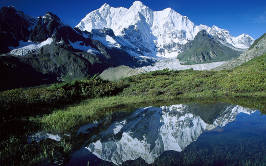 The gumdrop mountains and steeply sloping forested hills with bizarre rock formations favored by traditional Chinese artists are not creative fantasy. In fact, much of southern and southwestern China is covered in strangely eroded rock formations known as Karst. Karst is type of limestone formation named after an area in Slovenia. As limestone layers erode, the denser rock or pockets of different stone resist erosion forming peaks. Caves hollow out beneath the mountains which can collapse forming sinkholes and channels leading to underground rivers. At its most unusual Karst erodes to form mazes of pinnacles, arches and passageways. The most famous example can be found in the Stone Forest (石林 Shílín) near Kunming in Yunnan. Some of the most famous tourist areas in China feature spectacular karst landscapes — Guilin and Yangshuo in Guangxi, and much of central and western Guizhou province.
Several sites in China have famous Buddhist art:
Yungang Grottoes in Shanxi Province - more than 51,000 Buddhist carvings, dating back 1,500 years, in the recesses and caves of the Yangang Valley mountainsides
Mogao Caves in Gansu province - art and manuscripts dating back to the 4th century
Dazu Rock Carvings near Chongqing - dating from the 7-13th century
Longmen Grottoes near Luoyang - 5-10th century
China is home to many sacred mountains:
The Five Great Mountains, associated with Taoism:
Mount Tai, Shandong Province (1,545 meters)
Mount Hua, Shaanxi Province (2,054 meters)
Mount Heng (Hunan), Hunan Province (1,290 meters)
Mount Heng (Shanxi), Shanxi Province (2,017 meters)
Mount Song, Henan Province, where the famous Shaolin Temple is located (1,494 meters)
The Four Sacred Mountains associated with Buddhism:
Mount Emei, Sichuan Province (3,099 meters)
Mount Jiuhua, Anhui Province (1,342 meters)
Mount Putuo, Zhejiang Province (297 meters, an island)
Mount Wutai, Shanxi Province (3,058 meters)
The three main sacred mountains of Tibetan Buddhism:
Mount Kailash, Tibet (5,656 meters), also known as Gang Rinpoche in Tibetan, also one of Hinduism's holiest mountains visited by many Hindu pilgrims
Kawa Karpo
Amnye Machen
Japan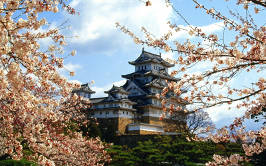 Japan, known as Nihon or Nippon in Japanese, is an island nation in East Asia.
When most Westerners think of castles, they naturally think of their own in places like England and France however, Japan, too, was a nation of castle-builders. In its feudal days, you could find multiple castles in nearly every prefecture.
Original Castles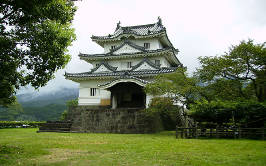 Because of bombings in WWII, fires, edicts to tear down castles, etc. only twelve of Japan's castles are considered to be originals, which have donjons that date back to the days when they were still used. Four of them are located on the island of Shikoku, two just north in the Chugoku region, two in Kansai, three in the Chubu region, and one in the northern Tohoku region. There are no original castles in Kyushu, Hokkaido, or Okinawa.
The orginal castles are:
Uwajima Castle
Matsuyama Castle
Kochi Castle
Marugame Castle
Matsue Castle
Bitchu Matsuyama Castle
Himeji Castle
Hikone Castle
Inuyama Castle
Matsumoto Castle
Maruoka Castle
Hirosaki Castle
Reconstructions and Ruins
Japan has many reconstructed castles, many of which receive more visitors than the originals. A reconstructed castle means that the donjon was rebuilt in modern times, but many of these still have other original structures within the castle grounds. For example, three of Nagoya Castle's turrets are authentic. Reconstructions still offer a glimpse into the past and many, like Osaka Castle are also museums housing important artifacts. Kumamoto Castle is considered to be among the best reconstructions, because most of the structures have been reconstructed instead of just the donjon. The only reconstructed castle in Hokkaido is Matsumae Castle. Okinawa's Shuri Castle is unique among Japan's castles, because it is not a "Japanese" castle; it is from the Ryukyuan Kingdom and was built with the Chinese architectural style, along with some original Okinawan elements.
Ruins typically feature only the castle walls or parts of the original layout are visible. Although they lack the structures of reconstructed castles, ruins often feel more authentic without the concrete reconstructions that sometimes feel too commercial and touristy. Many ruins maintain historical significance, such as Tsuyama Castle, which was so large and impressive, it was considered to be the best in the nation. Today, the castle walls are all that remain but the area is filled with thousands of cherry blossoms. This is common among many ruins, as well as reconstructions. Takeda Castle is famed for the gorgeous view of the surrounding area from the ruins.
Gardens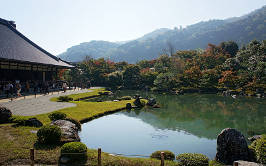 Japan is famous for its gardens, known for its unique aesthestics both in landscape gardens and Zen rock/sand gardens. The nation has designated an official "Top Three Gardens", based on their beauty, size, authenticity (gardens that have not been drastically altered), and historical significance. Those gardens are Kairakuen in Mito, Kenrokuen in Kanazawa, and Korakuen in Okayama. The largest garden, and the favorite of many travelers, is actually Ritsurin Park in Takamatsu.
Rock and sand gardens can typically be found in temples, specifically those of Zen Buddhism. The most famous of these is Ryoanji Temple in Kyoto, but such temples can be found throughout Japan. Moss gardens are also popular in Japan and Koke-dera, also in Kyoto, has one of the nation's best. Reservations are required in order to visit just so that they can ensure the moss is always flourishing and not trampled.
Spiritual Sites
Regardless of your travel interests, it's difficult to visit Japan without at least seeing a few shrines and temples. Buddhist and Shinto sites are the most common, although there are some noteworthy spiritual sites of other religions, as well.
World War II Sites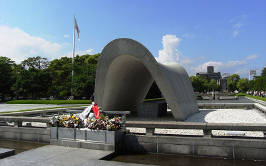 The three must-visit places for World War II buffs are Hiroshima, Nagasaki, and the capital of Okinawa, Naha. Okinawa is where some of the most brutal battles occurred between Japan and the United States, and the area is crawling with remnants from its dark past. The Peace Park, Prefectural Peace Museum, Himeyuri Peace Museum, and the Peace Memorial Hall are some of the best places to learn more, see artifacts, and hear accounts of the battles that took place here.
While Hiroshima and Nagasaki are important World War II sites, because the bombings of these cities led to the end of the Pacific War, the sites and museums found in these cities also speak to many as visions of a grim future, should nations continue supporting nuclear weapons programs and nuclear proliferation. These two cities are the only cities in the world that have ever been hit by nuclear bombs, and each city has its own Peace Park and Memorial Museum where visitors can get a feel for just how destructive and horrific atomic warfare truly is. For many travelers in Japan, visiting at least one of these cities is a must.
Many people are curious about the possibility of visiting Iwo Jima. Currently, the Military Historic Tours Company has exclusive rights to conduct tours of the island.
Malaysia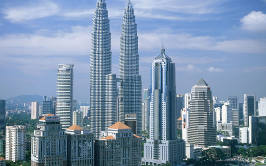 Malaysia is a country in Southeast Asia, located partly on a peninsula of the Asian mainland and partly on the northern third of the island of Borneo. West (peninsular) Malaysia shares a border with Thailand, is connected by a causeway and a bridge (the 'second link') to the island state of Singapore, and has coastlines on the South China Sea and the Straits of Malacca. East Malaysia (Borneo) shares borders with Brunei and Indonesia.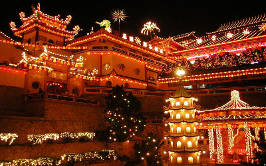 There are various beautiful national parks in Malaysia. There are many different types of expeditions available, ranging from those where you hardly lose sight of the hotel to those where you are fully immersed in the jungle with only the guide and yourself if you are willing to pay the money! Tours vary from about 4 days to 2 weeks or more. It is very unlikely in most of the national parks for you to see a tiger or an elephant as it is really likely only if you are going to be staying for longer than a few days, i.e., for a couple of weeks at least. One of the most common forms of wildlife that you will encounter in the jungle however are definitely leeches! In the rainforest it is very, very humid but actually it is not incredibly hot. This is because of the large amount of shade afforded by the canopy created by the interlocking trees. Shop around for deals of getting into the jungle and make your decision based on what type of person you are. If you are going to enjoy a lot of hiking without seeing any other people for days or even weeks then you can have that choice, alternatively you can have a much more 'packaged' tour in which you will probably stay in a very built up tourist town which has probably just grown out of the demand for people wanting to stay in the jungle.
If zoological exhibits are more your thing or you are visiting with children there are several well-maintained zoos all over Malaysia that are worth a visit or two, most notably Taiping Zoo, Kuala Lumpur 's Zoo Negara and Melaka Zoo.
Singapore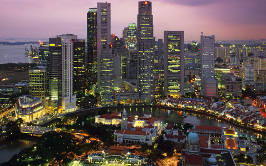 Singapore is a city-state in Southeast Asia. Founded as a British trading colony in 1819, since independence it has become one of the world's most prosperous countries and sports the world's busiest port. Combining the skyscrapers and subways of a modern, affluent city with a medley of Chinese, Malay and Indian influences and a tropical climate, with tasty food, good shopping and a vibrant nightlife scene, this Garden City makes a great stopover or springboard into the region.
Beaches and tourist resorts: Head to one of the three beaches on Sentosa or its southern islands. Other beaches can be found on the East Coast.
Culture and cuisine: See Chinatown for Chinese treats, Little India for Indian flavors, Kampong Glam (Arab St) for a Malay/Arab experience or the East Coast for delicious seafood, including the famous chilli and black pepper crab.
History and museums: The Bras Basah area east of Orchard and north of the Singapore River is Singapore's colonial core, with historical buildings and museums.
Nature and wildlife: Popular tourist attractions Singapore Zoo, Night Safari, Jurong Bird Park and the Botanical Gardens are all in the North and West. Finding "real" nature is a little harder, but the Bukit Timah Nature Reserve (located in the same district as the zoo) has more plant species than that in the whole of North America. Pulau Ubin, an island off the Changi Village in the east, is a flashback to the rural Singapore of yesteryear. City parks full of locals jogging or doing tai chi can be found everywhere. Also check out the tortoise and turtle sanctuary in the Chinese Gardens on the west side of town for a great afternoon with these wonderful creatures.
Skyscrapers and shopping: The heaviest shopping mall concentration is in Orchard Road, while skyscrapers are clustered around the Singapore River, but also check out Bugis and Marina Bay to see where Singaporeans shop.
Places of worship: Don't miss this aspect of Singapore, where Buddhism, Taoism, Hinduism, Sikhism, Baha'i faith, Christianity, Islam and even Judaism all exist in sizeable numbers. Religious sites can be easily visited and welcome non-followers outside of service times. Particularly worth visiting include: the vast Kong Meng San Phor Kark See Monastery near Ang Mo Kio, the colorful Sri Mariamman Hindu temple in Chinatown, the psychedelic Burmese Buddhist Temple in Balestier and the stately Masjid Sultan in Arab Street.
South Korea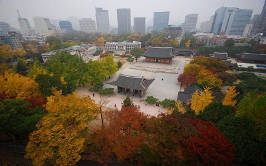 South Korea, formally the Republic of Korea is a country in East Asia. South Korea occupies the southern half of the Korean Peninsula, with North Korea to the north, China across the sea to the west and Japan a short ferry ride to the southeast.
Korean Demilitarized Zone (DMZ) – On July 27th 1953, The Demilitarized Zone (DMZ) was established as a cease-fire agreement with a boundary area of 2km between North and South Koreas. It is also said that there are still a lot of landmines buried in DMZ. In addition, Panmunjeom is the only 'truce village' of the Korean Demilitarized Zone (DMZ) where tourists could view North and South Koreas without much hostility. It is probably the only unique area without any troops around as the other area separating the two Koreas is the most heavily armed in the world. The Third Tunnel of Aggression, created by North Korea, was discovered in 1978. This tunnel is not more than an hour or 44km away from Seoul and it is 1.7 km long, 2 m high, 2 m wide and about 73m below ground. Black coke was painted on the wall as a camouflage to look like a coal mine.
Visit the World Heritage cultural sites in Gyeongju and the natural sites on Jeju Island.
Taiwan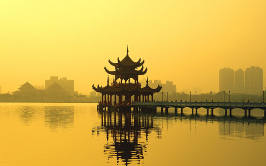 Taiwan is an island nation of about 36,000 km² located off the coast of southeastern mainland China, southwest of Okinawa and north of the Philippines. The island is offically known as and governed by the Republic of China (中華民國 Zhōnghuá Mínguó) or ROC. Shaped roughly like a sweet potato, the nation is home to more than 23 million people and is one of the most densely populated places in the world. Besides its crowded cities, Taiwan is also known for steep mountains and lush forests. In addition to the island of Taiwan, the Republic of China also governs the tiny Pescadores (Penghu), Quemoy (Kinmen/Jinmen), and Matsu.
Many people think of Taiwan as a grimy, densely populated industrial island full of hard disk factories, and you may well maintain this perception if you only stick to the densely populated West Coast. However, for those who take time to venture to the more sparsely populated East Coast will quickly find that Taiwan is actually home to some stunning landscapes. The Taroko Gorge near Hualien in particular is very impressive, and should not be missed. Most of Taiwan is covered with mountains which offer breathtaking views, so hiking opportunities are very diverse.
Thailand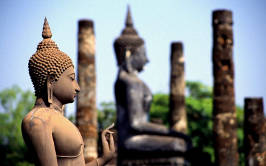 Thailand officially the Kingdom of Thailand is a country in Southeast Asia with coasts on the Andaman Sea and the Gulf of Thailand. It borders Myanmar (Burma) to the north-west, Laos to the north-east, Cambodia to the south-east and Malaysia to the south.
With great food, a tropical climate, fascinating culture and great beaches, Thailand is a magnet for travellers the world over.
Historical and cultural attractions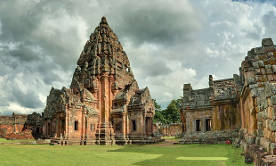 Bangkok is at the start of many visitors' itineraries, and while a modern city, it has a rich cultural heritage. Most visitors at least take in the Grand Palace, a collection of highly decorated buildings and monuments. It is home to Wat Phra Kaew, the most sacred Buddhist temple in Thailand that houses the Emerald Buddha. Other cultural attractions include Wat Pho, Wat Arun and Jim Thompson's House, but these are just a fraction of possible sights you could visit.
The former capitals of Siam, Ayutthaya and Sukhothai, make excellent stops for those interested in Thai history. The latter could be combined with a visit to Si Satchanalai and Kamphaeng Phet, all of which are UNESCO World Heritage Sites. Khmer architecture is mostly found in Isaan, with the historical remains of Phimai and Phanom Rung being the most significant.
In the northern provinces live unique hill-tribe peoples, often visited as part of a trekking. The six major hill tribes in Thailand are the Akha, Lahu, Karen, Hmong, Mien and Lisu, each with a distinct language and culture. Chiang Mai makes a good base for arranging these trekkings, and has some cultural sights of its own, such as Wat Doi Suthep.
For those interested in recent history, Kanchanaburi has a lot of sights related to World War II. The Bridge over the River Kwai, popularised by the film of the same name, is the most famous one, but the museums in its vicinity are a lot more moving.
Beaches and islands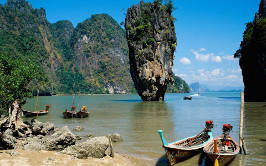 Thailand's beaches and islands attract millions of visitors each year from all over the globe. Hua Hin is Thailand's oldest beach resort, discovered by King Rama VII in the 1920s as an ideal getaway from Bangkok. Things have considerably changed since then. While Pattaya, Phuket and Ko Samui were only discovered in the 1970s, these are now by far the most developed beach resorts.
Krabi Province has some beautiful spots, including Ao Nang, Rai Leh and the long golden beaches of Ko Lanta. Ko Phi Phi, renowned as a true paradise island, has been undergoing massive development since the release of the film The Beach in 2000. Ko Pha Ngan gives the best of both worlds, with well-developed beaches and empty ones a short ride away.
Ko Chang is a bit like Ko Samui used to be, it has a backpacker vibe, but is fairly laid-back and there is accommodation in all price ranges. If you're looking for unspoiled beaches, Ko Kut is very thinly populated, but also difficult to explore. Ko Samet is the closest island beach to Bangkok, but its northern beaches are quite developed and hotels are pretty much sold out on weekends and public holidays.
Natural scenery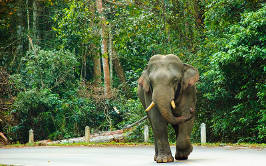 While not as beautiful as Malaysia or Indonesia, Thailand does have its fair share of tropical forest. Khao Yai National Park, the first national park of Thailand, is the closest to Bangkok. Wild tigers and elephants are increasingly rare, but you can't miss the macaques, gibbons, deer, and species of birds. The stretch of jungle at Khao Sok National Park is probably even more impressive, and you can spend the night in the middle of the jungle.
Waterfalls can be found all over Thailand. The Heo Suwat Waterfall in Khao Yai National Park and the 7-tiered Erawan Falls in Kanchanaburi are among the most visited, but the Thee Lor Sue Waterfall in Umphang and the 11-tiered Pa La-u Falls in Kaeng Krachan National Park are equally exciting. Finally, the gravity-defying limestone formations of the Phang Nga Bay shouldn't be missed by anyone who stays in the region.
Vietnam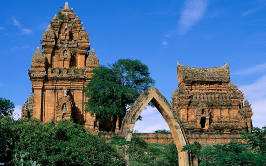 Vietnam officially the Socialist Republic of Vietnam is a country in Southeast Asia. Its neighboring countries are China to the north, Laos and Cambodia to the west.
Simply walking to the nearest intersection and merely watching the driving antics is amazing. Keep watching and you may see TV's and Fridges and other unlikely objects impossibly balanced and secured with string on the back of a motorcycle. Watch how other people and local cross the road.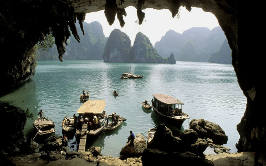 You will need to observe the traffic etiquette, if you want to cross the road. Some suggest avoid crossing when trucks and lorry's are close by, as they are less agile than motorbikes.
If your timing coincides with the to/from school hours, this is the best time to observe a glimpse of pushbikes, traditional clothing and ao dai mixing it with 'normal' traffic, even in the heaviest of torrential downpours. Such motivated schoolchildren!
As you travel about, you will find there are clusters of shops all selling like goods - like 20 sewing machine shops together, then 30 hardware shops all together, 200 motorcycle repair shops in the same block. Prices are competitive!
Be wary of watch shops selling original authentic fakes. Other fake watches are available but not as cheap as other surrounding countries. Pirated software is oddly, very hard to find and not sold openly. However Movie DVD's of indifferent quality are widely available from US$1, although not all may have English on them. The local post office will strictly not allow them to be posted abroad.